BRIEF HISTORY
The construction of the Santa Eulalia's Cathedral was carried out during the centuries XII, XIV and XV but, since then, it has suffered a lot of interventions and restorations during the years. In 1298 the construction of the Gothic Cathedral started, but it was not until 1401 when the cloister was built. There were different architects involve along the construction: Beltrán Riquer (1298), Arnau Bargues (1398-1408), Jaime Solá (140 - 1412) and Carles Baltés de Ruan (1408).
There was a sequence of earthquakes in Barcelona between 1427 and 1428, but there were no important damages in the cloister.
In 1890, a renovation of the cloister's garden was done.
A religious residence was constructed in 1965 above the cloister in the southeast side with access from the sacristy. And in 1969, it was built a historical archive above the cloister in the Northeast side and a reform of the roof was done to fix the humidity problems.
ARCHITECTURAL FEATURES AND GEOMETRY
There are three entrances to the cloister: one from the Cathedral (Number 2 in the image of the plan), in Romanesque style from the former Romanesque church, and two from the street (numbers 3 and 4).
The Gothic cloister has a square shape (21x28.70 m2 the inside square and 62x44m2 the exterior one). The galleries are roofed by quadripartite pointed vaults, which create four galleries and twenty chapels around the central patio.
The structural material used for the cloister, as well as for the whole Cathedral, was Mountjuïc stone.
DAMAGE AND DIAGNOSIS
The general condition of the structure of Barcelona Cathedral Cloister is good. None of the cracks and damages founded during inspection are dangerous for structural stability. The crack appeared mainly due to adjustment of masonry to natural deformation of structure, for example caused be soil settlement and due to anthropogenic activities.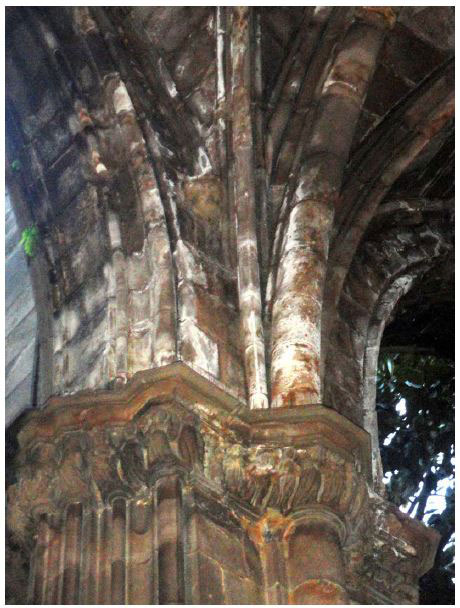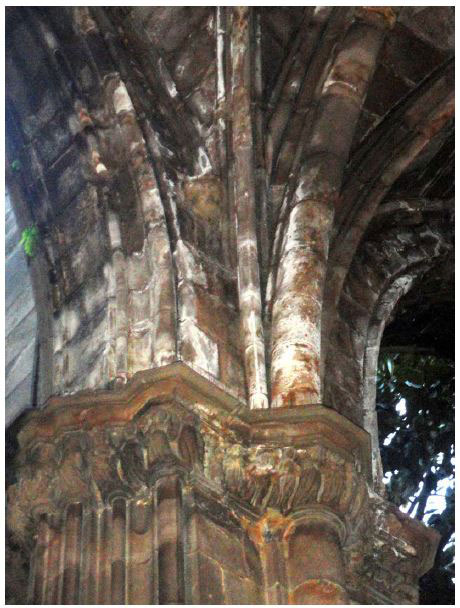 REFERENCES
[1]         J. M. Marti I Bonet, La Catedral de Barcelona: Historia i Histories. Barcelona, 2010.
[2]         J. Bassegoda i Nonell, "Restauracions de la Catedral de Barcelona," Butlletí la R. Acadèmia Catalana Belles Arts St. Jordi, vol. 2, pp. 7–22, 1988.
[3]         J. Bassegoda i Nonell, "El sepulcro de Santa Eulalia de Barcelona," Boletín la Real Acad. Bellas Artes San Fernando, vol. 58, pp. 123–158, 1984.
[4]         J. Bassegoda i Nonell, "El VII Centenario de la Catedral de Barcelona (1298-1998)," Boletín la Real Acad. Bellas Artes San Fernando, vol. 87, pp. 103–118, 1998.